Conservation, Comfort, and Customization
Millennials are redefining the workforce. They demand tech-enabled, entrepreneurial, sustainable, natural, and shareable workspaces. And with the growing need to reduce our  overall space and energy footprint, we're looking for ways to nurture creativity and innovation while remaining responsible about the environment. 
Imagine this—it's Monday morning, and you're about to log on to Zoom for your weekly meeting. As you pull out your laptop, a breeze ruffles your hair and birds sing in the background. Greenery surrounds your screen and the sun warms your keyboard.  
Admittedly, the very idea of relocating your desk outside sounds downright idyllic. And with the global pandemic, more people have become comfortable with shifting their workspaces to outdoor settings. The outdoor atmosphere can make for a peaceful work or camp setting. 
Except for the bugs.
At SolarFi, we appreciate all that bugs do for our ecosystems. From controlling plant pests and helping to dispose of waste to pollinating many of our flowers and vegetables, bugs certainly have their own work cut out for them. But that doesn't mean we like sharing a workspace with them. 
To combat those pesky mosquitoes and flies, mud, extreme cold and hot weather and all the other things that prevent you from spending your time outside, we've developed SolarFi Hakuna Matata, a unique line of solar-powered cabins that were designed to provide all the accommodations of an indoor work setting while providing an immersive outdoor experience. 
To book your outdoor retreat, contact us at joinus@solar-fi.com.
A breakdown of Hakuna Matata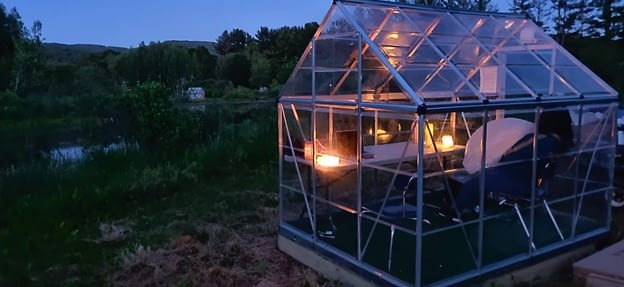 Energy Conservation and Comfort
Solar Panels for complete solar powered experience

Strong, UV resistant, and transparent polycarbonate to maintain rigidity, while also blocking out bugs and keeping its modern look
Wooden platform underneath prevents mud and dirt, and also adds strength to the overall structure.
HEPA filters and built in HVAC creates a comfortable environment inside the pod for dining and working.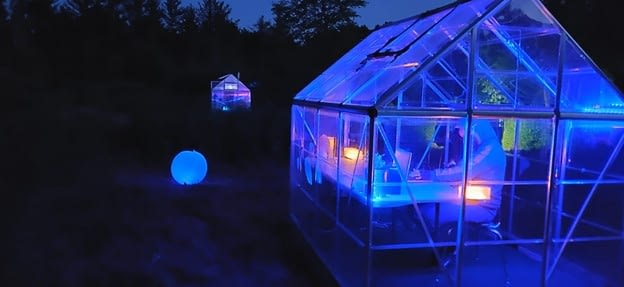 LED lighting to provide a working space at night while also setting the proper mood
Relaxing Himalayan salt lamps to enhance the comfort and productivity of those in the pod
Multipurpose pods can be utilized for working, camping, creative retreats, and much more!
Modern design helps the pod integrate with its surrounding, creating a seamless blend of technology and nature.
Join us in Providing Sustainable Solutions