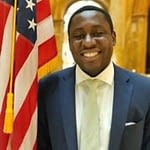 What to Learn More About the Team Members
Antonio Dixon
Russ Klein
Mike Rinella
Doug Lloyd
Brian Jiguere
Jarred Rose
Nidhi Bhutani
Antonio Dixon
Antonio Dixon is an MIT-trained, award-winning entrepreneur, and economist with experience in healthcare (telehealth), renewable energy, and international trade which has led him to work over 20 international markets, and travel to over 60 countries. Mr. Dixon was recently recognized as a Top 100 Startup Changemaker from Harvard and MIT and recognized by the UN as a Young Pioneer, the winner of the Frost & Sullivan Emerging Market Innovation Award. His company, SolarFi is the only company with less than $50,000,000 in revenue to be invited to the UN's SDG Innovators Program. Mr. Dixoon serves as an Executive-in-Residence at Columbia University and NYSERDA (The New York State Energy Research and Development Authority) and as a professional advisor at MIT's Martin Trust Center for Entrepreneurship. He is a SOCAP Scholar that has advised on Presidential elections in Africa.
An expert change-maker and serial entrepreneur,  Mr. Dixon has always had an abiding interest in sustainability. To that end, as co-founder of SunPowerd Mr. Dixon developed alliances to provide solar grids to developing countries and orchestrated key partnerships with Microsoft, Royal Dutch Shell, USAID Power Africa, and the United Nations. Based on his experiences as a resident in Africa where access to the internet and even continuous power is sometimes a luxury, Mr. Dixon saw an opportunity and leveraged his deep knowledge of technology to co-found SolarFi.
SolarFi has the life-altering potential to bring energy and economic development to developing countries and seeks to connect the under-served and unconnected populations in Africa through solar-powered technology stations which have become the swiss army knife for impacting communities
Russ Klein
Mike Rinella
Doug Lloyd
Brian Jiguere
Jarred Rose
Nidhi Bhutani
What to Learn More About our Advisors
Dr Sam Agbo
Glenn Butler
Alex Pischalnikov
Mark O'Luck
Paul de Francisci
Dr Paul Feuerstein
John Cervey
Dr Sam Agbo
Dr. Sam Oboche Agbo is a Public health expert and Child Specialist with a strong background and work experience in Epidemiology; Primary Health Care, UHC, Health Policy and Financing and Business management in Africa and the UK. Dr. Agbo is chief of health and child survival and development for UNICEF, where he is responsible for planning, implementation, monitoring, and evaluation of integrated management of childhood illness, immunization, and emergency preparedness and response. Agbo's experience includes 16 years in various roles at UNICEF and over 30 years on the front lines in the fight against polio. He previously worked as head of health and HIV at Save the Children, as a community health officer with the World Health Organization (WHO), as an independent policy and health advisor in the UK, and as head of health for Merlin. He is an Aspen Institute New Voices Fellow, and a technical advisor at SolarFi.
Glenn Butler
Alex Pischalnikov
Mark O'Luck
Paul de Francisci
Dr Paul Feuerstein
John Cervey
Join us in Providing Sustainable Solutions